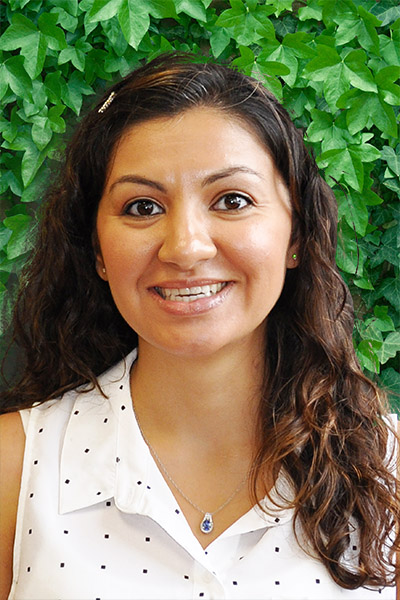 Ms. Christine Gonzales is a doctoral student at the APA accredited Health Psychology program at East Carolina University, with a concentration in Pediatric School Psychology. She holds a Master of Arts degree in School Psychology, and a Bachelor of Science degree in Psychology. She also earned certification in Elementary Education and was an elementary school teacher for several years before returning to graduate school. Ms. Gonzales has worked with all ages of children and adults, with a focus on children, adolescents and families. She has worked in multiple settings including private practice, schools, pediatric primary care practices, family medicine practices, pediatric specialty clinics, and psychiatric inpatient hospitals. Within these professional experiences, she has conducted individual, group, and family therapy, as well as parent training. She is also experienced in conducting psychoeducational and psychological/behavioral evaluations.
Intervention Style: Ms. Gonzales' intervention style includes the use of cognitive-behavioral therapy (CBT), dialectical behavior therapy (DBT), and family systems therapy, to form integrative, evidence-based interventions. Ms. Gonzales has a passion for delivering evidence-based treatments, but also emphasizes the significance of the therapeutic relationship in bringing science and art together for effective, efficient, and client-centered outcomes.
Therapy Experience with Adults: Ms. Gonzales has worked with diverse clients of all ages throughout the different stages of the lifespan, presenting with a wide array of clinical areas of focus. She has facilitated progress and adaptive outcomes with individuals presenting with all forms of anxiety, depression, mood disorders, trauma, couples, questions of gender and sexual identity, relationship and family challenges, parenting concerns, as well as career and adjustment concerns. As a health psychologist she has specialized experience in weight management and the impact of lifestyle on health. Ms. Gonzales works collaboratively with the individual in identifying short-term and long-term goals, utilizing methods to measure positive outcomes.


Therapy Experience with Children and Adolescents: Ms. Gonzales has worked with children of all ages presenting with different areas of clinical focus. She primarily uses play therapy as a mode for treatment with young children, incorporating parent and family work as well for an effective systems-focused approach. She has a particular interest in coordinating her therapeutic interventions with families and schools, in order to best serve the child in the two settings where they spend the majority of their time. As a former teacher, Ms. Gonzales believes strongly in early interventions and meeting the child where they are by considering the developmental level and life stage of the individual. With adolescents specifically, Ms. Gonzales understands the unique challenges and varying developmental stages of concern, including autonomy, physical and emotional changes, and strained parent-teen relationships. She works with the adolescent to identify the area(s) of focus, as well as considering systems at large, such as parents, educational institutions, and social groups. With children and teens of all ages, Ms. Gonzales provides therapy for the broad array of childhood issues, such as depression, general anxiety, social anxiety, school anxiety and refusal, sibling rivalry, parent-child relationship rifts, oppositional behavior, conduct issues, academic struggles, learning differences, attention deficit, autism spectrum, healthy lifestyle (weight management and movement), and supportive therapy for life changes such as moving or divorce.
Assessment: Ms. Gonzales has experience conducting psychological/behavioral and psychoeducational assessments. She also has specific interests in behavior plans, IEPs, and assisting families to navigate when accommodations may be needed in the school setting.
Research & Publications: Ms. Gonzales worked in a variety of research labs at Duke, UNC-CH, and East Carolina University. Research focus has included the relationship between reading and attention problems, as well as the role of schools in supporting students' academic and emotional needs. Furthermore, she completed her master's thesis research titled "An Examination of Student Trajectories Related to Reading and Attention Skills Across Elementary Grades." Her publications include:
Schultz, B., Shipp, O., Kininger, R., & Gonzales, C. (In review). Modular therapy for school mental health: Modifications to address academic impairments. Evidence-Based Practice in Child and Adolescent Mental Health.
King, K., Gonzales, C., & Renke, W. (2018). Empirically derived subclasses of academic skill among children at-risk for behavior problems and association with distal academic outcomes. Journal of Emotional and Behavioral Disorders.
Shalev, I., Caspi, A., Ambler, A., Belsky, D. W., Chapple, S., Cohen, H. J., Israel, S., Poulton, R., Ramrakha, S., Rivera, C. D., Sugden, K., Williams, B., Wolke, D. & Moffitt, T. E. (2014). Perinatal complications and objective aging indicators by midlife. Pediatrics, 134, e1315-e1323.
Strauman, T. J., Detloff, A. M., Sestokas, R., Smith, D. V., Goetz, E. L., Rivera, C., & Kwapil, L (2013). What shall I be, what must I be: Neural correlates of personal goal activation. Frontiers in Neuroscience. 6:123. doi: 10.3389/fnint.2012.00123